Trucking Accidents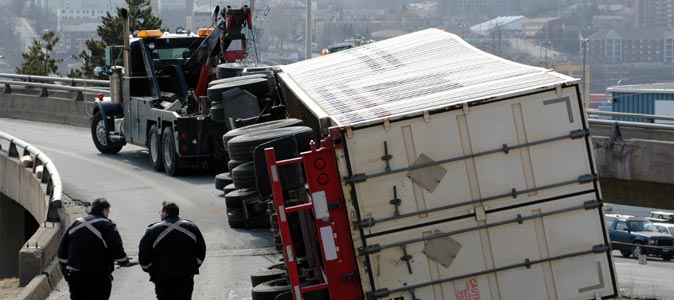 Have you or a loved one been injured in a truck accident? You're not alone.
As the nation's highways and roads become more congested, car accidents have become a daily tragedy. The National Highway Traffic Safety Administration reports that it is now the number one cause of death in the United States for people between the ages of two and 33.
A car accident can result in hardships suffered at the hand of another's negligence or reckless behavior. Our lawyers know the burden that the victims and families must bear. On average a trucking accident can cause any number of overwhelming burdens such as:
costly medical bills
severe physical pain
emotional distress
loss of wages
loss of earning capacity in the future
to a spouse, the loss of household services (the performance of household and domestic duties by a spouse to the marriage)
to a spouse, the loss of consortium (the mutual right of the husband and wife to that affection, solace, comfort, companionship, society, assistance, sexual relations, emotional support, love, and felicity necessary to a successful marriage)
Contact an attorney right away to preserve your rights and protect your case.
Soon after a trucking accident occurs, as soon as the very day or night of the accident, the trucking company or their insurance company may have someone at the scene, taking photographs of evidence, and working on the case. It may be important to hire a lawyer as soon as possible so that important evidence is not overlooked, undocumented, lost, or destroyed.
We are experienced in handling trucking accident injury lawsuits, anywhere from one passenger who has been seriously injured, to multi-car accidents involving 18-wheelers and automobiles, ranging from serious injuries to wrongful death.
What you need to know:
Every collision, accident, and injury is different, and we can't provide legal advice without learning the specific facts of a case, but in general, here are some tips:
1. You should hire an attorney as soon as possible. In Texas, a statute of limitations limits the time that you have to file a lawsuit. If you don't file in time, you could be permanently barred from filing a lawsuit. In some types of cases, the limitations period can be 2 years, in some types, much, much shorter.
2. Seek medical attention immediately if you are injured. Of course.
3. Exchange insurance information. At the accident scene, exchange insurance information with the other driver(s) if you are physically able.
4. Photo and Video Document Your Injuries. One of the best things you (or your family and loved ones) can do to help is to document your injuries. Soon and often. Take many photos in the hospital room, both close up and zoomed out. Take photos of the injuries. Continue to take photos at regular intervals.
5. And much, much more. Click here to submit your case today.
We are experienced trucking accident lawyers in Texas – call us today, and we can help.
As dedicated attorneys we can aid you in regaining all that you have lost, and we understand that there is no dollar value of money that will bring back a loved one who has been killed in a trucking accident. But we have been there before, with grieving and seriously injured clients, and it helps to have smart, compassionate attorneys working with you and fighting for you, every step of the way. With our understanding of the local laws and trucking litigation experience in Texas, we are ready to help you secure the settlement you deserve.
If you or your loved one has been injured as a result of someone else's negligence, contact one of our lawyers today for a free review of your case and allow us to help in rebuilding your life.
Call now: 713-629-1111 or click here to fill out a case evaluation form.